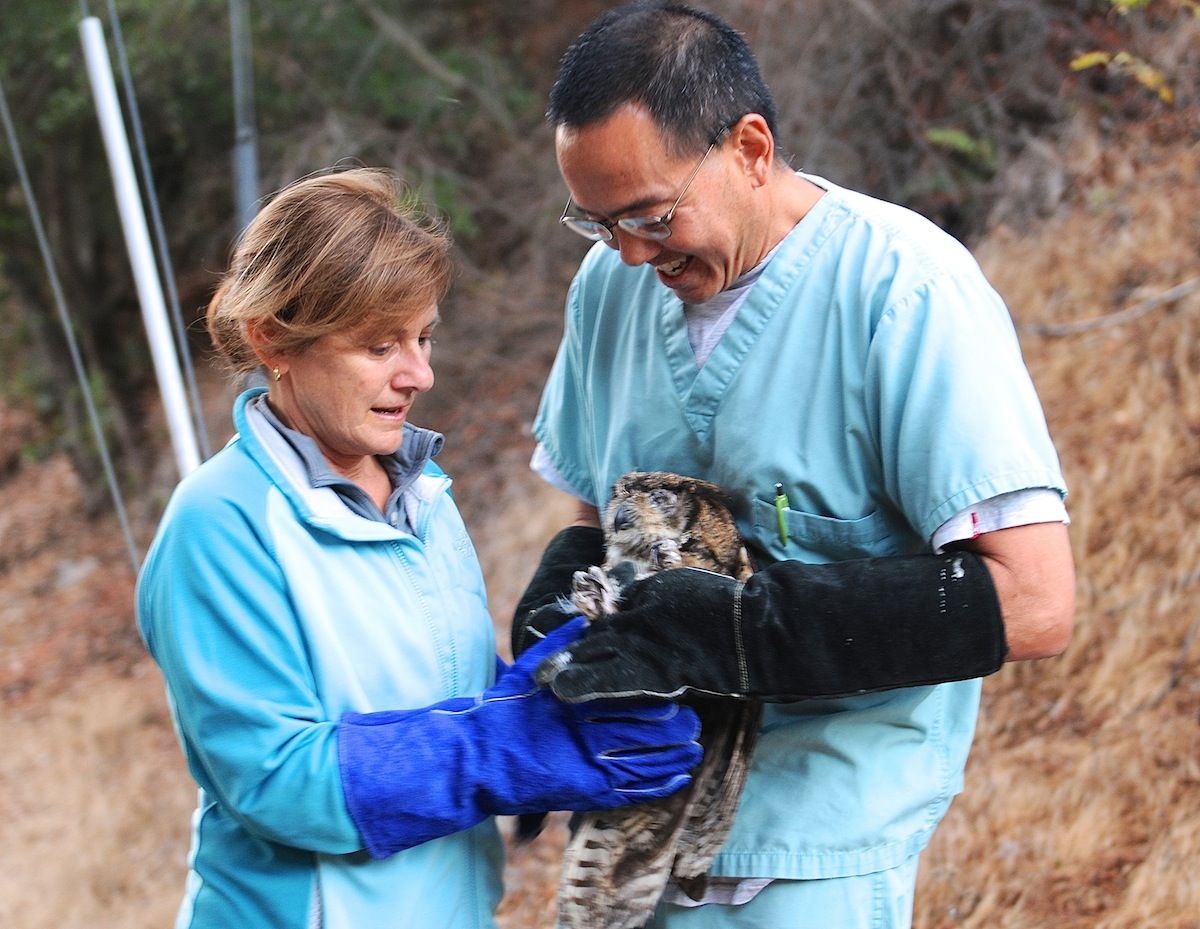 Thanks to some quick thinking by a local teacher and her husband, a great horned owl received a second chance to roam the Santa Monica Mountains when it was re-released into the wild by the California Wildlife Center (CWC).
The story of Pirate the one-eyed, great horned owl began when Mary Tafi, a first-grade teacher at Our Lady of Malibu, and her husband came upon a severely injured owl in the middle of the road near her Malibu home off of Latigo Canyon Road.
"I found this owl stunned and seemingly dead on the road, near my house. My neighbor, whose wife works as a vet at the California Wildlife Center, helped my husband and me to get him off the road and into a dog crate," Tafi said in an email shared with The Malibu Times.
Tafi and her husband took the owl to the CWC the following day, on Sept. 13, where Dr. Duane Tom began treating Pirate for his injuries. 
"Great horned owls are actually the main predator of skunks, so what it looked like was he came down and tried to get a skunk and he got sprayed in his whole eye and head, and crashed into something," Dr. Tom told The Malibu Times. 
Getting sprayed by a skunk, or "skunked," is no easy recovery. 
"It's very painful, it burns heavily," he added. 
One of the owl's eyes had heavy inflammation, but Dr. Tom hoped to be able to treat and save it. After a few weeks, though, CWC workers determined the left eye could not be saved because of heavy swelling and ulcerating. 
In a procedure known as evisceration, Dr. Tom worked to remove the eye's contents while still leaving the shape of the eye intact. By leaving the contouring or "globe" of the eye in place, Dr. Tom said it lessened Pirate's sense of the eye being missing when he hunts, flies and eats. 
The successful surgery was followed by another procedure a week later to remove fluid buildup. Next up came a rehabilitation program for Pirate, who is estimated to be four or five years old. 
"We put him into our [owl] enclosure, then we tested him to see if he could see, catch and eat mice. After that it was just getting him back into flight conditioning … we have some large flight enclosures so he just got to fly back and forth at night," Dr. Tom said. 
Along Pirate's road to recovery, Tafi made sure she and her students helped him out every step of the way. They wrote "Get Well Soon" notes and sent other well wishes during his stay at CWC headquarters. 
Through it all, the most rewarding moment came when CWC workers gathered at Tafi's house to release Pirate on Oct. 25. 
"A few of my students came, as well as several workers from the CWC. I was stunned when the vet asked me to release him! I will never forget the feeling of holding, then releasing this majestic bird!" Tafi said. "It was a profound moment!" 
Pirate was one of 25 great horned owls treated by the CWC this year, and Dr. Tom said the owl breed is among the most common brought into the CWC. In 2013. the center treated 41 great horned owls. Great horned owls typically live about 13 years, according to Dr. Tom. 
Tafi and her class aren't done helping out though, as the teacher and students have organized a fundraiser on Thursday where they plan on selling "Owl Granola" and give all proceeds to the CWC. 
Tafi has also incorporated Pirate and his brethren into her curriculum. 
"Every year at this time, we study bats and do a month-long thematic unit," Tafi said. "Having the great horned owl be part of the unit was a terrific way to introduce and explain the food chain."