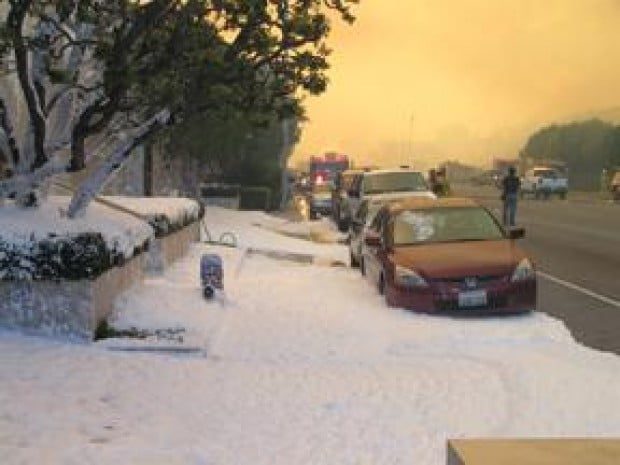 Homes, schools, churches and businesses are destroyed or damaged by the Oct. 21 fire that started in Malibu Canyon.
By Jonathan Friedman / Assistant Editor
The largest Malibu fire since 1993 came to an end last Wednesday around sundown when fire officials announced the blaze had been fully contained. The Canyon Fire left behind 4,565 burnt acres and destroyed six homes (four within the city limits), Malibu Presbyterian Church, and Malibu Glass and Mirror. Fifteen other homes were damaged, as were seven businesses at Malibu Colony Plaza, and structures at Our Lady of Malibu and Webster Elementary schools, in addition to other random structures and items.
Although the fire left many facing a rebuilding process, the blaze was far less brutal than some imagined it could have been during day one of the Canyon Fire on Sunday, Oct. 21.
"What could have been a catastrophe [was prevented]…" City Manager Jim Thorsen said at Monday's City Council meeting. "And we'll move forward, and continue to learn, and get better."
As is usually the case with Malibu incidents, celebrity and otherwise, this fire has received a wealth of media attention. Much of it focused on the destruction of the Presbyterian Church and Lilly Lawrence's Castle Kashan above the Civic Center area on Malibu Crest Road. Malibu Glass and Mirror, the lone business to suffer complete annihilation, has also received some notice.
The other destroyed homes within the city are located on Carbon Canyon, Harbor Vista, Malibu Knolls and Coast View Drive.
The rebuilding process for those homeowners will include the regular city permitting routine, although they will be able to rebuild the original structures, regardless of any changes to city zoning laws since original construction.
The other homes suffering fire damages, varying from minor to heavy, were located on Coast View Drive (two), Harbor Vista Drive (three), Malibu Crest Drive (one), Malibu Knolls (three), Malibu Road (five), and an attached condominium on De Ville Way received damages to a chimney and roof.
Most of the commercial damage occurred in Malibu Colony Plaza. The clock tower above First Bank was burnt and left leaning at an angle, threatening nearby Starbucks and Tola Life Spa. The roof collapsed at the Business & Shipping Center, the front door and roof were damaged on the recently built Wine Barrel [formerly Champagne Bakery] and Bank of America suffered some roof damage. The rear of Ralphs grocery store was damaged and the back of CVS' façade was charred, threatening to fall. A trailer in the mall's parking lot was burnt to the ground, and the remains have been removed.
Our Lady of Malibu and Webster Elementary schools, located across from each other on Winter Canyon Road, both suffered structural damage. While other local schools were able to open last week, those institutions did not return to operation until Monday.
A mobile lab containing approximately 50 computers was completely destroyed at OLM. Also, an eighth-grade classroom was damaged by fire and a seventh-grade classroom suffered heavy water damage during the firefight. The students from those two classrooms are being moved to another area of the campus.
At Webster, the ceiling of one classroom was damaged by fire. That classroom teacher's students are being moved to another part of the school. A second classroom received a great deal of smoke, and the air quality was thus poor (the Sylmark Company donated 25 air purifiers to the school Tuesday morning to help clean the classroom's air). A computer lab and another classroom were also damaged at Webster. A shed containing art and earthquake supplies was completely destroyed and another shed that was vacant will need to be repaired.
There was also significant damage to the school's landscaping. On Sunday, several parents came to Webster to help clean debris and plant some new items.
"We had a work party that you had to see to believe," Principal Phil Cott said. "They showed up with power tools and rakes, and we did a huge amount of work. The school district maintenance staff has also been working extremely hard. They've invested a lot of effort."
Also in Malibu, the Hughes Research Laboratory lost two office buildings. Various power lines and power poles were destroyed as well as several cars, fencing on Malibu Crest Road and there was some minor damage to a vacant property on Malibu Road. A nursery on the Yamaguchi Family Trust property south of City Hall was destroyed.
Although the fire is contained, minor smoldering spots are popping up, something that is expected to continue until the end of the week.
"Just yesterday, our local patrols responded four or five times to reports of smoldering small hotspots," said Maria Grycan, the community service representative for the local fire region.
The South Coast Air Quality Management District has designated Malibu's air quality as "moderate."
"There are no health precautions that need to be taken," said district spokesperson Tina Cherry, although she said those who are "unusually sensitive individuals" might want to reduce their outdoor activities.