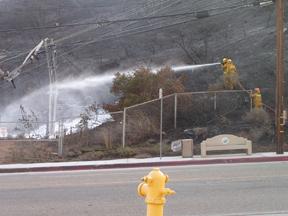 Facing a mob of angry customers ready to change cable service or go with satellite, Charter Communications is on the apology wagon following what some are considering poor performance during last week's Canyon Fire. The cable company is offering a one-week credit to its subscribers and is admitting that its customer service representatives did a less than stellar job on informing people about the massive cable outage.
Early on the first day of the fire, 90 percent of Charter customers lost their service when 4,000 feet of fiber-optic lines near Bluffs Park were destroyed. This was a significant problem for many in Malibu, who subscribe to Charter for television, Internet and telephone services, with the outage leaving them unable to communicate or receive information about the fire.
Many residents, including local leaders, have been surprised to learn that Charter was in significant trouble once its lines were destroyed because it had no backup system. Eighteen months ago, Charter had moved its operation system or "head-end" from Malibu to Monterey Park to improve the signal, Charter said. But with no backup system in place, customers were facing a loss of cable if anything happened with the connection to the distant operation system.
"We are in the process of building a redundant path [backup system], but have not yet put it in place," said Charter spokesperson Craig Watson, who said the backup system, which includes leasing an entry point from Southern California Edison, would be installed by December.
The problem was made worse by the fact that Charter could not enter the area until Edison workers completed the restoration of power poles. And those customers who managed to get in touch with Charter using cell phones reached operators who were not much help.
"Initially they didn't know what happened or where to turn," Watson said. "When they called our customer hotline, they didn't get any answers… we could have done a better job of getting information more quickly to our call center representatives. Looking back on that, we certainly recognize this."
Charter was able to restore service to most of the area by early Wednesday morning, Watson said. But this victory was short-lived because in the afternoon "one of the other [utility] crews working came in contact with our fiber cable, damaged it and knocked us off." Watson said he believed it was accidental, and would not say what company he believed did it.
Charter then was sent back to the beginning, and did not have cable fully restored throughout the city until Friday, although most customers were receiving the service by Thursday.
Although Charter received most anger from residents, with rival Verizon getting few complaints, Charter was not alone. The city had some people upset over a few issues. There were complaints about not receiving e-mail alerts from the city for which they had subscribed. City Manager Jim Thorsen said the government was unable to send the e-mails because there was no power at City hall. The city was operating on two generators by Monday, but they were not powerful enough to allow for the e-mail system to work.
Thorsen said he wants to purchase a more powerful generator. Also, the city's radio station that was supposed to provide people with information on the fire status, AM-1620, could not be heard in many places throughout Malibu. Thorsen said the station needs to be more powerful. Also, many people, including city officials such as Thorsen, did not know the station existed.
At last Friday's City Council meeting, the council voted to allocate $200,000 to Thorsen's department so he could make purchases he feels the city needs in preparation for the next disaster.
"There's always opportunities to improve services," Thorsen said in an interview this week. "We're in the process of gathering the data, and seeing what we can improve on."