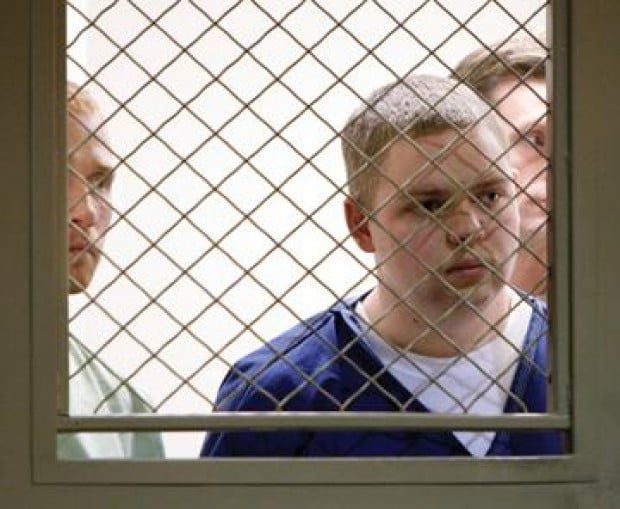 A judge rejects the request of two of the suspects' attorneys for their clients to be released without bail, saying they "showed callousness in action and behavior" during the fire. A defense attorney says the case is being pursued because of political pressure.
By Jonathan Friedman / Assistant Editor
Attorneys for three of the five men charged with causing the Nov. 24 Corral Fire entered pleas of not guilty for their clients in Van Nuys Superior Court Friday morning. Brian Alan Anderson, 22, William Thomas Coppock, 23, and Brian David Franks, 27, could face more than a decade in state prison if convicted.
A preliminary hearing will take place Jan. 7 to determine if there is enough evidence to put the three men on trial. The two other suspects in the case, Culver City residents Eric Matthew Ullman, 18, and Dean Allen Lavorante, 19, will be arraigned on Feb. 14. They are now free on bail.
Anderson posted $240,000 bail on Tuesday after his "aunts scraped together some money," said his lawyer John Duran. Anderson appeared in court Friday wearing a suit. His co-defendants remained behind a jail door window connected to the courtroom as their lawyers asked Judge Michael K. Kellogg to release them without bail.
Kellogg refused the request, saying the seriousness of the alleged crime is too great. He said the suspects "showed callousness in action and behavior" by causing a fire that injured six firefighters and destroyed 86 structures, including 53 homes.
"All the sorrys in the world don't change the circumstances," Kellogg said.
Kellogg, a resident of the Malibu area, also addressed the issue of political pressure that has come up with this case. "Nobody has come to my door and said, 'Hey judge, we know where you live," he said.
Kellogg lowered Coppock's bail from $240,000 to $230,000 due to a math error in calculating the original amount. Coppock posted bail later that day. Franks' bail was lowered to $100,000, with Kellogg saying he was the only person who attempted to put out the fire.
"Everyone else was packing their gear and getting ready to leave," Kellogg said.
Franks' lawyer, public defender Douglas Goldstein, said his client would not be able to come up with the money to post bail. Two people, a mother and her son who know Franks, spoke on his behalf in an unsuccessful attempt to persuade the judge to let Franks out of jail without bail.
"He doesn't have a mean bone in his body," said Jason Lesley, whose mother, Julie, added, "Aside from my own children, there has never been a child who has walked through my front door who has been as kind, non-malicious, always trying to do the right thing."
Goldstein, referencing the fire investigators' report, said his client attempted to "stomp out" the flames after a campfire in a cave at the top of Corral Canyon Road got out of control. He said Anderson kicked a log, and told Franks, "Put this out." Goldstein said Anderson also threw a burning pillow onto the fire while several people laughed.
During a press conference after the hearing, Coppock's attorney, Andrew Flier, said Goldstein's statements were inappropriate.
"I think we should all stick [together] as a team because [our clients] didn't start the fire, [our clients] thought it was out," Flier said. "So why is there any type of pointing fingers? Because that's what the government wants."
Flier said he might eventually request separate trials for the defendants. He also said the suspects were scapegoats, an accusation he has made several times since the five suspects were charged on Dec. 13 in connection with the fire.
"I will say it until this case is over, the politics and scapegoat issue are why we are all here, period," said Flier, who said the suspects were charged because of "the Malibu community and the political pressure by the governor and other factors."
Also speaking at the press conference, Duran called the case "every suburban parent's worst nightmare." He admitted his client and others were there for the party and were drinking alcohol, but said that should make this a civil case. Flier agreed with this assessment, and alleged the suspects' financial status was the reason they are being accused of criminal wrongdoing.
"It's a civil matter against five indigent people, basically," Flier said. "Where is that going to get anyone?"
Deputy District Attorney Samuel Dordulian of the Target Crimes Division said during the hearing that although the two Culver City suspects built the campfire, the other three suspects were still involved in the alleged crime. He also accused Coppock of bringing lighter fluid and uncut logs stolen from Ralphs to the party.
"Their culpability rests in the act of starting the fire, adding logs to the fire and being where the fire was," Dordulian said.
He added that the campfire party took place a little more than a month after large fires had destroyed several areas in Southern California, including a portion of Malibu. And it had been widely publicized in the days leading up to the Corral Fire that a Red Flag warning was in effect because of the intense winds and low humidity.
"This wasn't just some random day," Dordulian said, adding, "We were very fortunate nobody died."
The prosecutor continued, "The reckless act is a complete disregard for the property rights of others, property value of others and the public safety of others."