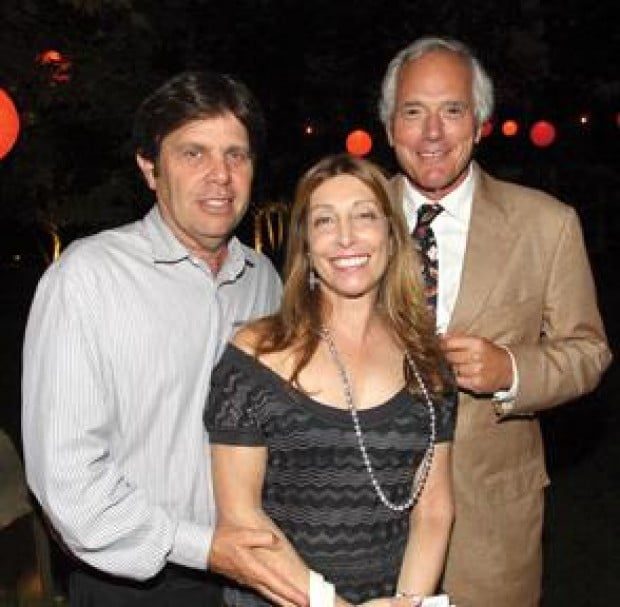 WELL READ
Get ready to read all about it! Book lovers are gearing up for one of the most clever and fun fundraisers around. The famed Literary Feasts are right around the corner. On Wednesday, 55 gourmet dinners featuring prominent writers and celebrities will be held at some of the city's poshest pads and most exclusive hideaways. The personalities and programs are all so tempting, it's hard to choose just one.
Here in Malibu, Richard and Liane Wientraub will host contemporary art collector Adam Lindemann at their exquisite Italianate villa. Elizabeth and Dennis Tito will be getting above it all with redwoods expert Richard Preston. Fans of Jackie Collins will be dining in 18th Century splendor at the Versailles-inspired 45,000 square foot palatial home of Suzanne Saperstein called Fleur de Lys.
You'll know the score at sportscaster Dick Enberg's get together and you won't have to guess who's coming to dinner at the Sidney Poitier affair. Paula Kent Meehan will be opening the screen doors of her authentic Japanese teahouse to longtime Los Angeles Times columnist and Angeleno of note Patt Morrison and out in Pasadena, John Assaraf, one of the teachers of the sizzling hot bestseller "The Secret," will share his insight on quantum physics and success with Mary and Bill Urquhart and their guests.
In the Hollywood hills, Jane and Steve Ackerman are hosting a New York-themed bash for Eunice David. Oscar winning lyricist Hal David will be on hand at the piano for a night that "promises, promises" to be one to remember. In Bel-Air it's perhaps the sweetest dinner of all. Legendary chocolatier John Scharffenberger will show you why he's cuckoo for cocoa.
Others with the write stuff include Julie Andrews, Don Rickles, Jackie Collins, A. Scott Berg, Bob Newhart and Gore Vidal. Proceeds from the fabulous feasts will benefit the Los Angeles Public Library. The Central Library and its 71 branches are an important resource for the entire city, providing free access to more than 2,300 computers and 6.4 million books. Since 1994, the Council of the Library Foundation and its members have raised more than $12 million for library services. So go ahead. Book 'em!
BIG DAY FOR BEATTY
Accolades are on the way for actor Warren Beatty. The iconic star will be honored by the American Film Institute with its Life Achievement Award. AFI chief Howard Stringer said Beatty was an easy pick for the prize. "He has charmed movie goers as a dynamic leading man," he said. "He is also a master filmmaker, a writer, producer and director of such artistry and influence that his movies from 'Bonnie and Clyde' to 'Reds' have left an indelible mark on the cultural legacy of American film."
Got a hot happening or cool event? Send the 411 to kimdevore@malibutimes.com