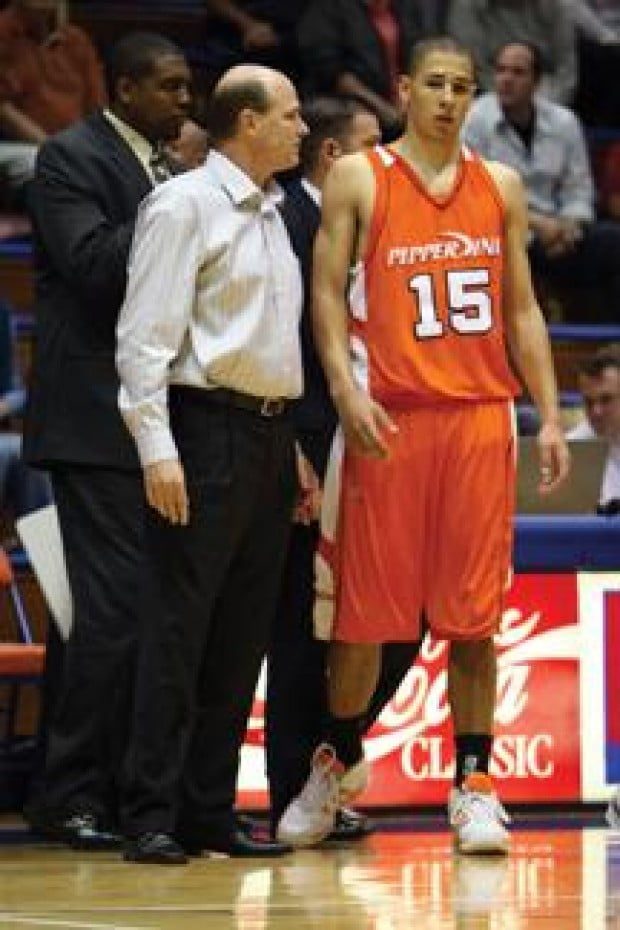 Twelve of the 15 players on Pepperdine's roster never played a game for the team last year.
By Seth Rubinroit / Special to The Malibu Times
The Pepperdine University men's basketball team is still called the Waves, and they still play at Firestone Fieldhouse. Other than that, not much has remained constant under second-year head coach Vance Walberg.
In order to implement his high-energy, high-scoring system, Walberg initiated a massive overhaul of the Waves' roster to bring in young, athletic players. In fact, of the 15 players on the roster, only three played in a game for Pepperdine last season.
"Everything is a learning experience because we are so young this year," Walberg said. "I just want to get better, and little by little, get to where I know we can be."
With so many young teammates, fifth-year senior Jarrad Henry, the Waves' most experienced player, will be counted on to provide leadership as well as defense. Henry, who Walberg considers the team's best defender and rebounder, had a West Coast Conference record eleven blocked shots in a game last season.
"I try to lead by example in practice, and hopefully it translates into the game" Henry said.
Jason Walberg, who along with Henry and Tyler Carr are the only three seniors on the team, is in a rare situation. Walberg is one of the few athletes who can say that his father coached him at the Division I level.
"The pros are that [the coach] is your dad so you have that chemistry with him and you know what he wants," said the younger Walberg. "The cons are that sometimes you put too much pressure on yourself. You expect yourself to do too much."
Walberg has found that spending so much time with his father has changed their relationship.
"It definitely brings you closer, but sometimes it pushes you apart, too," Jason Walberg said. "After basketball, you do not want to see each other … you see each other too much."
Walberg is not the only player with a famous father. Freshman Mychel Thompson, who has made waves with his consistent play off the bench, is the son of former Los Angeles Lakers' center Mychal Thompson, who was the first overall pick in the 1978 NBA Draft. At the Waves' first home game, a 97-89 loss to Cal State Northridge, the elder Thompson proudly videotaped his son's every move.
"This is a big-time college basketball program, and a very prestigious and exclusive school," said the beaming father, who is now a radio analyst for the Los Angeles Lakers and a co-host of "Loose Cannons" on KLAC-AM. "For Mychel to be playing at this level and going to a school of this caliber is something to be very proud of."
The elder Thompson, who says he will try to go to all the home games that do not conflict with the Lakers' games, said he has a lot of advice to offer his son.
"If Mychel listens to me, the game will be easier," said the elder Thompson. "I went through all this, so I tell him about all my experiences. It gives him an idea of what to expect."
So far, the rebuilding Waves are off to a rough 0-4 start, and are predicted to finish in sixth place in their eight-team league in the annual WCC preseason coaches' poll. However, the future looks bright once the players begin to adapt to Walberg's system.
The elder Thompson is also confidant the Waves will be able to recruit star players.
"If I would have come out here on a recruiting visit, I do not think I would have ever left," he said, who attended the University of Minnesota. "It is so beautiful out here."
For now, the Waves will focus on setting and accomplishing goals.
Henry says, "We want to make the postseason, beat [rival] Gonzaga, have a winning record, and improve every day."