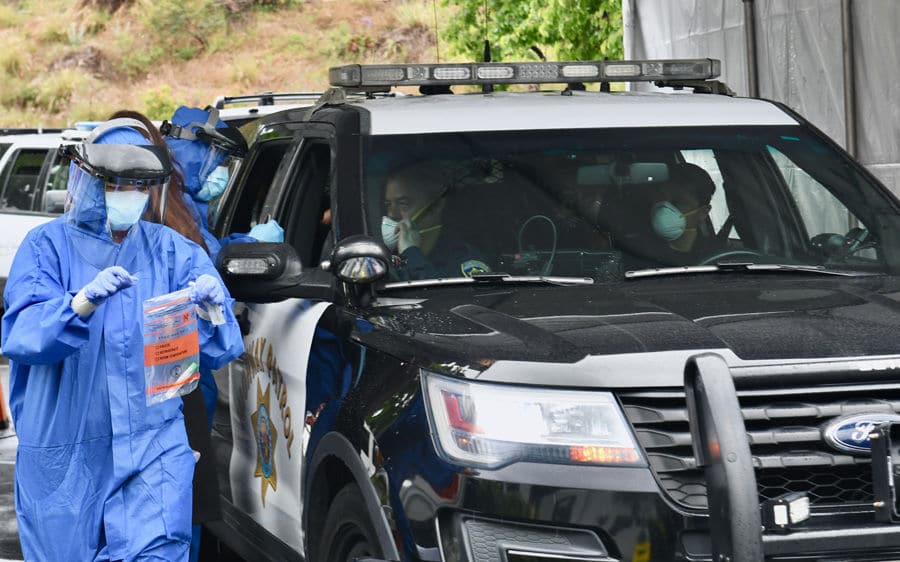 COVID-19 has killed two additional Malibu residents, according to data provided by Los Angeles County Department of Public Health on Wednesday, Dec. 16, bringing the total number of local victims up to five. 
The first local death caused by COVID-19 was reported in April 2020, just weeks after the disease was first reported in Malibu. Two additional deaths were recorded over the summer.
Drive-through coronavirus testing was being made available to the public in Malibu two days per week, with the next testing day Friday, Dec. 18 from 10 a.m. to 2 p.m. at Malibu City Hall. The testing is being conducted by Malibu Medical Group. 
The total number of Malibuites who have tested positive for the virus rose to 181 on Wednesday, while across Malibu and the unincorporated Santa Monica Mountains area of Los Angeles County, a total of 425 positive test results have been confirmed. Malibu's relative rate of infection remained significantly lower than the hardest-hit areas of the county, but has risen following a lull in the late summer and early fall as the region was hit with a "third wave" virus surge.
The identities of the two most recent virus victims were not available. Of Malibu's five victims, only the identity of the first—longtime resident John Bell—had been released publicly.
Wednesday also brought record-breaking numbers of new cases, hospitalizations and deaths: 22,422 new cases were reported, along with 138 new deaths. Those cases included a backlog of around 7,000 positive test results, but even without those 7,000, the new number presents an unprecedented increase in positive results in hard-hit Los Angeles County, and public health authorities were warning of hospitals nearing capacity to care for infected residents: "Hospital available capacity is decreasing to alarming levels and healthcare workers are pushed to the limits; this affects every single person living and working in L.A. County since everyone depends on essential hospital services when needed," information from the public health department released Wednesday stated.
As of Wednesday, 4,656 Angelenos were hospitalized with the disease, an all-time high.
---
[Tuesday, Dec. 15:] A new record for the total number of people hospitalized for COVID-19 across LA County has been set each day this month, according to the LA County Department of Public Health, with more than 4,400 novel coronavirus patients at area hospitals as of Tuesday, Dec. 15, up from 2,316 Angelenos hospitalized due to the viral disease on Dec. 1. 
One month previous, on Nov. 16, only 1,049 people were in LA County hospitals due to the virus.
Specific to Malibu, a total of 177 people have tested positive for the virus since the outbreak began in spring of 2020, an uptick of eight in the past week—however, this includes a discrepancy, since yesterday's tally provided by the county listed 178 positive cases in Malibu.
This week also marked the rollout of the first Pfizer coronavirus vaccines in Los Angeles and across the United States since the U.S. Food and Drug Administration cleared the new vaccine for use as of Friday, Dec. 11. The first people eligible to take the vaccine are frontline medical workers, followed by employees and residents at skilled nursing facilities; there was no word as to when the vaccine would become widely available for use by other members of the public. The vaccine rollout came during "a time of extraordinarily high number of cases and hospitalizations and increasing numbers of deaths," a statement provided by LA County said, and amid new lockdowns imposed following the start of the post-Thanksgiving case surge. 
Dining at restaurants—including in outdoor seating areas—has been banned in LA County since the latest shutdown began on Dec. 6; however, one area restaurant—the Agoura Hills location of Cronies Sports Grill—defied the order, becoming a rallying point for protesters against the shutdown.
On Dec. 8, Agoura Hills City Manager Nathan Hamburger sent out a statement regarding "a local restaurant within the city continuing to offer outdoor dining in violation of the health orders of Los Angeles County and the State of California," evidently referring to Cronies. 
"We are disappointed in the actions taken by this business since encouraging people from outside the area to come into our community to protest the health order and not wear masks, in our view, shows a dangerous disregard for the well-being of others in Agoura Hills in light of the pandemic," Hamburger wrote. "In order to get past this dark period in our history, we all need to band together like we have in dealing with past crisis (sic) such as the Borderline shooting, Woolsey Fire and major earthquakes. Our community deserves to feel safe, support one another in ways that maintain health protocols and help those that are struggling."
On Dec. 12, the county health department stepped in.
"On Saturday, Dec. 12, 2020, LA County Public Health delivered a letter to Cronies revoking their health permit," according to a press release from the City of Agoura Hills dated Dec. 14. "Cronies now has the right to formally appeal the health department's decision within a specified timeframe. In the meantime, Cronies is prohibited from conducting any business operations. Non-compliance during the appeals period will result in continued enforcement by the county health department."
On Tuesday, Dec. 15, the virus reportedly killed 86 people in Los Angeles, the highest single-day death total since the summer surge. In Malibu, there remained three deaths due to the virus; the local tally has not increased since late summer.