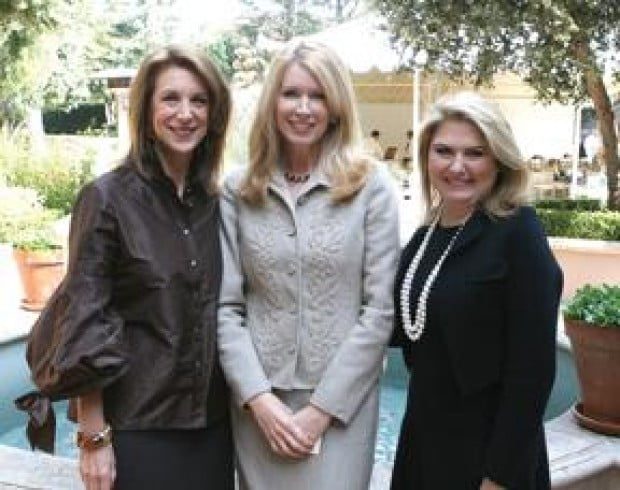 OSCAR'S WINNERS
Ladies who lunch and dig deep to help others turned out for a splashy Oscar de la Renta fashion show to benefit Aviva Family and Children's Services. The well-heeled gang gathered at the sumptuous Beverly Hills estate of Susan Casden. The buzz was all about fashion as a string trio played a Viennese waltz on the expansive outdoor patio and the pineapple fountain gurgled in the background. Servers made the rounds with flutes of champagne, blood orange spritzers and sweet peach ice tea.
Caterer Kate Paul was in charge of the kitchen duties and thirst-quenching libations. "I'm from Australia and we are crazy about fresh ingredients like passion fruit," she said. "Plus, palates in this town get tired very quickly and you've got to stay on top of it."
On the fashion front, no one was more on top of it than the gathering's beautiful brunch bunch. This was serious Rodeo Drive wear. Along with their oversized Gucci shades and major jewelry, there were countless top-of-the line bags. The lovely ladies toted limited-edition Vuitton, Birkins and Marc Jacobs in alligator, python and ostrich. The shoes would send Carrie Bradshaw into overdrive with Christian Louboutin, Jimmy Choos and Manolos as far as the eye could see. They sported every luxury label you could imagine-Valentino, Chanel and of course, Oscar.
Robin Broidy looked the epitome of afternoon elegance in her stylish black wool dress and double-strand necklace of pearls seeming the size of golf balls. "We in this room are very blessed. We shop, we lunch, we socialize and we give back all at the same time." Robin was the one who helped form the Platinum Associates.
"Robin got us all involved," Susan explained. "This is our fifth year. It's a great way to get our message across and see our dollars at work."
Models in sleek chignons, well-constructed suits and chunky jewelry wandered around for informal modeling before it was time for lunch. As we tucked into a delectable spread of cream of tomato soup, seared yellow fin tuna and lavender roasted chicken, we were dazzled by a first-class fashion extravaganza. The models took their turn sporting wide-legged flannel trousers, rich tweed jackets and frilly ruffled silk blouses. There were elaborately beaded bolero jackets embellished with metallic thread and surrounded by colorful stones. Classic shift dresses evoked the simple Hollywood glamour of Audrey Hepburn and there were floaty chiffon gowns in shades of lilac and mustard. It was the kind of collection that has made Oscar de la Renta an American icon.
With another successful fundraising luncheon behind them, there were words of thanks from Aviva CEO Andrew Diamond. "We have an amazing group of women who support hundreds of girls when government funding falls short. The objective is to keep these kids out of foster care." To drive home the point, the group heard from one member of the Aviva family. After years of childhood abuse, drug and emotional distress, she managed to finish school and land an internship at one of the city's top medical centers. "Aviva was the only place in my whole life where I felt safe and loved," Linda Duangmalla told the group. "Aviva saved my life when there was no one else." Now that's fashion and compassion.
Got a hot happening or cool event? Send the 411 to