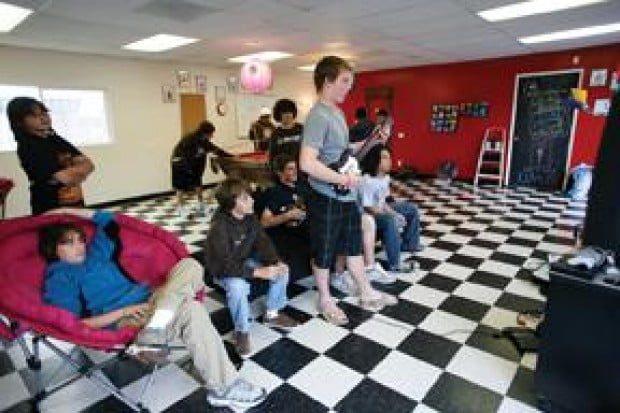 Cindy Crawford will host a youth-run fashion show as the first of the Friday night "fun" events. The founders of The Club hope to create an endowment that can lead to the construction of a community center.
By Melonie Magruder / Special to The Malibu Times
The Malibu Boys & Girls Club, founded seven years ago by local residents Daniel and Laure Stern, is beginning to hit its stride.
The Club is staging the first of many scheduled Friday night "fun" events on Nov. 30, with a "Malibu-style" fashion show presented by The Club Ambassador and supermodel Cindy Crawford. The events help celebrate its expansion behind Malibu High School, as well as to raise awareness of the comprehensive programs it offers local youth,
"This year, we asked some highly visible Malibu people to serve on our board as honorary Youth Leadership trustees, including Cindy," Laure Stern said. "She is hosting the fashion show and giving workshops to our club members to prepare them. The idea is to encourage our kids to think about what they will do with their lives. Whether you grow up in Watts or Malibu, it's not a question of who is richest or poorest, but what you do with your opportunities."
Creating opportunities is what The Club aims to do, despite a lack of endowment and, until recently, extremely cramped quarters from which to operate. With after-school sports, music, study and leadership programs on tap for children of all ages, The Club serves more than 600 Malibu youngsters every week.
"Laure has been the bulwark of The Club for years now," Daniel Stern of his wife. "I thought it was time I stepped up to help. So we are working toward two goals: a permanent endowment for The Club and the creation of a permanent Malibu Community Center, which The Club and many other groups can enjoy."
To this end, Stern invited fellow celebrities like Pierce Brosnan, Martin Sheen and Linda Hamilton to serve on the foundation's Board of Directors. "There's a lot of bread in this community and a lot of talented people," Stern said. "And you teach kids through mentorship and example."
One of the first goals was to find some space to set those examples. The Club members were literally on top of each other until Stern spoke with his friend Chris Prentiss, founder of Passages Malibu.
"Danny told me they needed $100,000 to add a modular wing to The Club, so we gave it to him," Prentiss said. "I know from experience that if you can reach kids in a positive way at that young age, I won't need to be treating them here 10 years later."
Prentiss' experience with youth-gone-astray is personal. His son Pax spent 10 years battling addiction. Now sober, he is co-executive director of Passages.
"I grew up in Venice and didn't have access to a place like The Boys & Girls Club," Pax said. "And if kids don't have a safe place to hang, they're going to do drugs. They need a structured environment."
Prentiss' largesse does just that, giving The Club enough room to handle diverse groups of children, counselors and mentors for study, workshops and play. "Twenty years from now, these kids will be running Malibu," Prentiss said. "It's in our best interest to make sure they have direction."
The Sterns' expanded vision for The Club means re-defining it from being simply a place where children go to play basketball after school to a foundation that provides community outreach to all residents.
"A permanent endowment will allow us to create a community center that serves everyone into the future," Stern said. "In a community of this financial privilege, that shouldn't be difficult. And our youth ambassadors will open the door."
Lyndie Benson-Gorelick, a 10-year Malibu resident, said she became an ambassador because of the lack of places to go for local children.
"I've got a 14-year-old and a sixth-grader, so I'm doing this for them," she said.
Benson-Gorelick cited some of the programs offered by The Club, such as The Keystone Club (a high school leadership council), Smart Girls (to empower sixth- and seventh-grade girls), Triple Play (a fitness group) and Power Hour (which provides one-on-one tutoring by mentors) as some of The Club's best assets.
"But our Friday Fun Nights are about opening our door to the whole community," Benson-Gorelick said. These will be monthly events like Crawford's fashion show, a concert headed by Benson's husband, jazz musician Kenny G, and a sports workshop organized by professional surfer Laird Hamilton.
"This is for everyone without regard to class, affluence or anything," Benson-Gorelick said. "Because we all are affected by each other."
When Crawford was approached by Benson-Gorelick to serve as an ambassador for The Club, she said she wasn't interested in just another lecture. "I didn't want to just talk at them. So, I came up with the idea of staging an entire fashion show, with the kids organizing everything from the runway logistics to the music to securing the wardrobe."
Crawford grew up in a small Mid-West town in a family of modest means. "It is my parents' values that gave me such a solid foundation," she said. "My Dad said he would pay me five dollars for every 'A' I got, and if I got straight 'A's he would double that. It's corny, but it was a challenge we shared, and I ended up being valedictorian of my class."
With two children in elementary school, Crawford says her eye is on their future.
"My only regrets in life came from doing stuff I was talked into," she said. "So I want to help these kids know that your gut matters. You know what is best for you. The Club helps them learn that."
The fashion show will take place at 6 p.m. at the Malibu High pool, located at 30215 Morning View Drive. Tickets are available by calling 310.457.1400 The show is free for members of The Club.