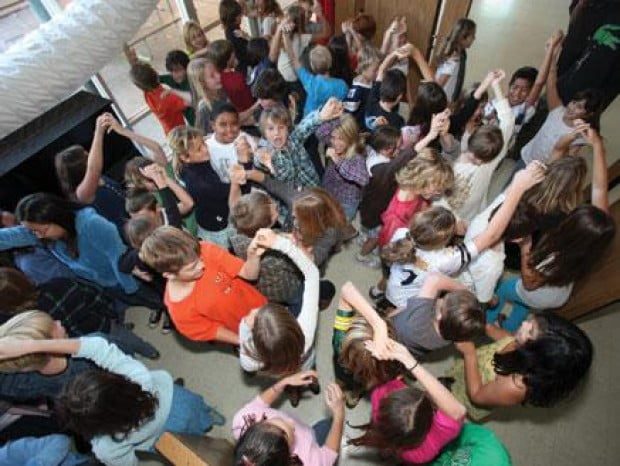 A "dance-off" will take place this Friday at Santa Monica High School with five couples from Webster competing.
By Melonie Magruder / Special to The Malibu Times
In an age when many schools require their students to sign a pledge that bans provocative dancing, otherwise known as "freak dancing," at school proms, Webster Elementary School is teaching a different kind of step-the fox trot.
Along with the tango, the merengue and the polka, Webster's fifth graders are following a course in ballroom dancing that will culminate in an interschool "dance-off" with two Santa Monica district schools this Friday. For the past 10 weeks, partners have been pairing off during physical education hour to learn dances that have been revived on television shows like "Dancing with the Stars" and "So You Think You Can Dance," capturing the imagination of people worldwide.
"The kids were initially mortified at the idea of ballroom dancing," Webster fifth grade teacher, Tracy Kooy, said. "Boys dancing with girls? But we showed them the movie 'Mad Hot Ballroom' and they have really gotten into it. It's been fun to see how far they've come."
As trained by dance instructor Daniel Ponickly of the nonprofit arts-in-education program, Ballroom Madness, the children lined up arm in arm to march in a processional into the school auditorium with all the dignity an 11-year-old can muster.
The blue-eyed dance instructor with wild hair, dressed in a formal black suit and shiny shoes, welcomed the students with elaborate courtesy and manically funny asides.
"Good afternoon, ladies and gentlemen!" Ponickly called out. "We'll start with a swing and maybe look at a tango. Please take this opportunity to make sure your shoelaces are tied."
The children might have been dancing with partners of mismatched heights. And some boys looked like they might be more at home on a surfboard then on a ballroom floor. But they moved with concentration and absolute engagement to the strains of a waltz as Ponickly shouted direction.
"I'm looking for that hard-to-define star quality," he told them. "That certain je ne sais quoi. What can you do in a merengue to make yourself stand out?"
"Shake your hips?" one girl offered.
"The rumba, ladies," Ponickly said. "It's an opportunity for styling. As you turn, show off your diamond rings, like you're dropping a hankie!"
The students giggled and danced on.
Ponickly has been involved with Ballroom Madness for about 10 years. He was featured in the award-winning 2005 documentary "Mad Hot Ballroom," which showcased New York City elementary students in a citywide dance competition. Ballroom Madness, operating from public and private funding sources, seeks to bring a new kind of physical education element to youngsters.
"In today's age of homeless kids and under-funded schools, I sometimes have trouble justifying a dance program," Ponickly admitted. "But this isn't just dancing. It's a confidence builder that teaches kids another way to communicate. It helps them get over a big hurdle of social interaction."
Ponickly has taken Ballroom Madness to schools in South Central Los Angeles and said that class attendance actually increased during the popular program.
"Maybe the class helped some kids get through the year," Ponickly said. "There's a value you carry through life."
Webster Principal Phil Cott likes to take a break and watch the classes. He said he is surprised at how some students have taken to ballroom dancing.
"See that little guy there? He's a stunning skateboard champ," Cott said, pointing out various students. "That blonde girl is an ice skater and the kid in a T-shirt is an ace baseball player. So their innate talent is coming out."
Ponickly was beginning his selection of five couples to represent the school in the competition Dec. 11, matching up dancers with style.
"The first round has two teams from each school dancing each dance," Ponickly explained. "The second round has teams chosen at random, so you need to be good at each kind of dance. The winners get a trophy and bragging rights."
Acknowledging that choosing the couples to compete is "the hardest thing" he had to do all year, Ponickly circulated among them, admonishing the dancers to take longer steps and reminding the ladies to look over their shoulders for the tango.
"Do we stay with these partners?" one boy asked.
"Yes, please stay with your partners. You are now legally wed," Ponickly said to general groans of horror. "Just kidding. You can't get married till you're in sixth grade."
Asked what they thought about the class, 11-year-old Dominique said, "Well, I thought it would be torture. But it's very excellent to do the tango and the merengue."
His partner, Zita, agreed.
"I thought it would be stupid," she said. "But my favorite part is the swing. And I like to fox trot."
Gradually, Ponickly narrowed his choices to 10 couples with style and character, to applause from the other students. The final five couples would be selected later in the week.
"Remember, it's not just a way to move your feet," Ponickly said. Tapping his chest, he added, "Are you really fox trotting in here?"
The Santa Monica-Malibu Unified School District Ballroom Madness Elementary School Dance-off will take place this Friday, Dec. 11 at 10 a.m. in Barnum Hall at Santa Monica High School. The public is invited to attend free of charge.