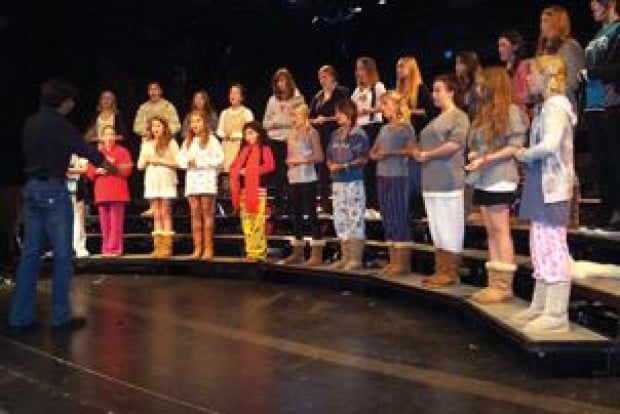 Acts ranging from an orchestral overture to full choir medleys to jazzy renditions of Rogers and Hammerstein favorites in revolving performances will be presented this week by Malibu High School in its annual fundraising program. Titled "Encore!," this year's fundraiser will benefit the Arts Angels program for the middle and high school classes.
"We have so many multitalented kids in the middle and high school," Pam Eilerson, organizer for the MHS Arts Angels, said. "The idea was to showcase the performing arts in all its manifestations. We had so many kids audition who knocked us out that we scheduled different performers for different nights."
The program runs an eclectic range that will include arias from "Carmen" to George Gershwin classics to the technically difficult librettos of Stephen Sondheim to songs plucked from obscure Broadway reviews with plots so thin they closed within six months.
Cole Porter's "The New Yorkers" opened December 8,1930 and closed May 2, 1931. Starring early vaudeville veteran Jimmy Durante, "The New Yorkers" yielded little that was memorable except one smoky tune of decadence titled "Love for Sale," a Porter standard that has been recorded by jazz artists from Ella Fitzgerald to Frank Sinatra. MHS student Kelsey Smith will perform the song on Wednesday night.
"We wanted to showcase the best of Broadway and the whole panoply of musical theater," Eilerson said. "So we have songs from 'Rigoletto,' but we also have music from classic Broadway productions like 'Chicago' and newer shows like 'Rent.' There's even a wonderful touching song from 'Oliver' done by the little sixth-grade son of the instrumental teacher, Bill Bixler."
Brigette Leonard, the middle school drama teacher, said she is proud of the talent that emerged while putting together the review.
"We wanted to feature all areas of the arts, since this fundraiser is going to benefit all areas of the art department at the school," she said. "So the range is huge – from opera, to 'Porgy and Bess,' to 'Wicked.' We wanted to showcase musicals that the parents remember."
Parents will be sure to remember one of the seminal Broadway productions of the '60s: "Hair," the 1968 rock musical that broke new ground with its counter-culture irreverence, anti-war anthems and shocking (at the time) nude scene.
Senior Brooke Holland will be singing "It's Easy to be Hard" from "Hair."
"I just love musical theater," Holland said. "I really, really liked 'Hair' since I saw a national touring company do it a long time ago. Years ago, my Mom did this song for an audition for 'Rocky Horror Picture Show,' so I thought about learning it."
Megan Keossaian, also a senior, chose a powerful song of maternal love from "Miss Saigon." The 1991 blockbuster musical is an updated version of Puccini's "Madame Butterfly" and ran for more than 4,000 performances on Broadway.
Set during the Vietnamese war, "Miss Saigon" retells the tragic tale of a doomed romance between an American soldier and a Vietnamese bar girl.
One of the high school's celebrated Chamber Music singers, Keossaian said she was attracted to the challenge of "I'd Give My Life for You."
"I really liked the lyrics," she said. "They are very emotional and the song is good for my range, so I wanted to take it on."
Performances of "Encore!" take place at Malibu High School, 30215 Morning View Dr., Wednesday and Thursday at 7 p.m.. Tickets can be purchased at the door or at a discount price online at malibuhigh.smmusd.org