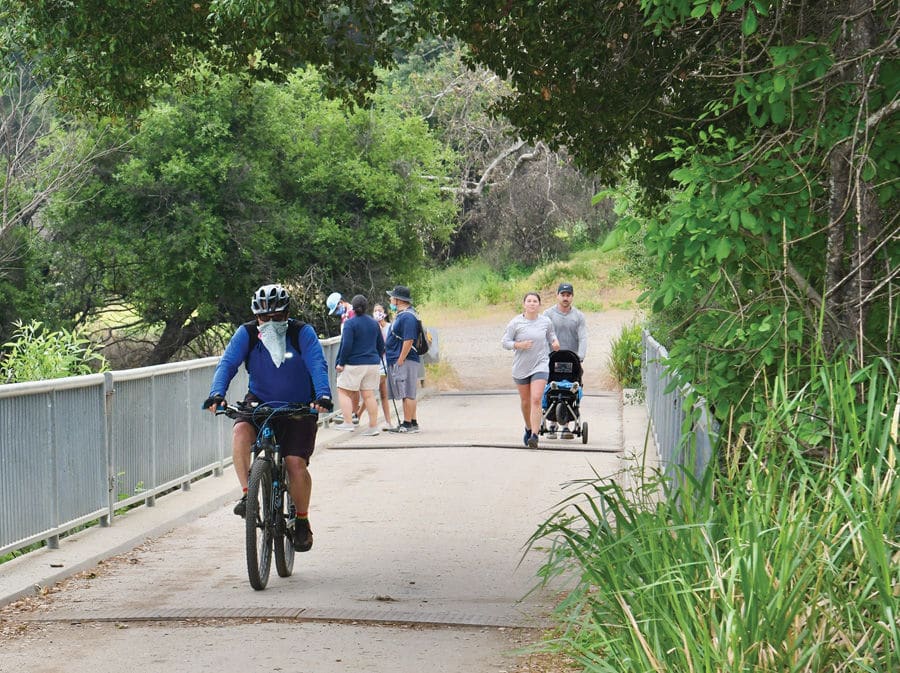 Los Angeles County officials announced beaches would open for recreational uses—walking, running, swimming and surfing—on Wednesday, May 13, five days after hiking trails reopened countywide. 
The beach reopening follows six weeks of closures to enforce social distancing and comes three weeks after a similar reopening was attempted—with success—in Ventura County.
"Despite some of the headlines #VenturaCounty #beaches were not packed last weekend," the official Twitter account for the County of Ventura posted on April 30. "Shout out to our community for following the rules and for the hard work of all police agencies throughout coastal cities." 
Infection numbers seemed to reflect that success—Ventura has maintained low daily infections and kept COVID-19 deaths to 21 in total, compared to Los Angeles County's 1,613.
Los Angeles County officials are hoping for similar compliance.
On Saturday, May 9, hikers were invited to return to many (but not all) trails around Los Angeles County that had been closed to help enforce social distancing during the novel coronavirus pandemic. Shortly after, the Mountains Recreation and Conservation Authority (MRCA) and state and national parks announced their trails would follow suit, opening for day use on Saturday.
That included nearly all trails located within the Santa Monica Mountains, with the notable exception of Solstice Canyon.
Initial reports stated hikers were not congregating in large groups as was feared. That may have been impacted by the City of Malibu hiring private security guards to enforce rules including no parking zones and social distancing. 
"I was very concerned that we would be overrun in Malibu by visitors who've just been so anxious to get out and come out to our parks that I did authorize a temporary hiring of private security guards," City Manager Reva Feldman said at a Monday City Council meeting.
"We have those positioned throughout the city in areas where we seem to get a bigger number of visitors," Feldman said, adding she received positive feedback on the security guards and offered them as an option moving forward.
LA County officials stressed face coverings must be worn at all times by all hikers and trail users and social distancing of at least six feet must be maintained. "No group gatherings are allowed on trails or in parking areas," according to the LA County Department of Parks and Recreation. 
In the Malibu/Santa Monica Mountains area, restrictions applied to the following California State Parks trailheads and parking lots (via trails.lacounty.gov):
The following parking lots will be open and accessible seven days per week from dawn to dusk at reduced capacity: Trippet Ranch, Malibu Creek-Lower Lot, Will Rogers. 
Malibu Creek State Park: Parking and restrooms at the lower parking lot only.  Tapia parking lot is closed. The Regan Ranch andPiuma restrooms closed, parking lots open. Rock Pool and Century Lake are closed.  
Point Mugu State Park: restrooms closed 
Topanga State Park: Reduced capacity parking, Dead Horse parking is closed.  Restrooms only at Trippet Ranch 
Will Rogers State Historic Park: Reduced capacity parking. All lawns closed including the polo field and golf course 
All MRCA parks and trails were open, "with limited facilities following the guidelines for park users outlined by Los Angeles County." Bathrooms and parking lots will be open; all other facilities will be closed. The New Millennium Trail in Calabasas will remain closed until further notice for restoration.
When it comes to National Park Service trails, "NPS will be opening all trails and trailheads in Los Angeles and Ventura County … Solstice Canyon will remain closed until the County modifies operations for beaches and the Pacific Coast Highway. Restrooms at the King Gillette Visitor Center will be open, but the visitor center will remain closed, as local and state guidance does not yet allow for gatherings in buildings."
Restrictions on parking along PCH were raised as a safety concern during the council meeting—parking has been severely limited to encourage social distancing. Council asked staff to consider lifting restrictions to avoid unsafe crossing of PCH.