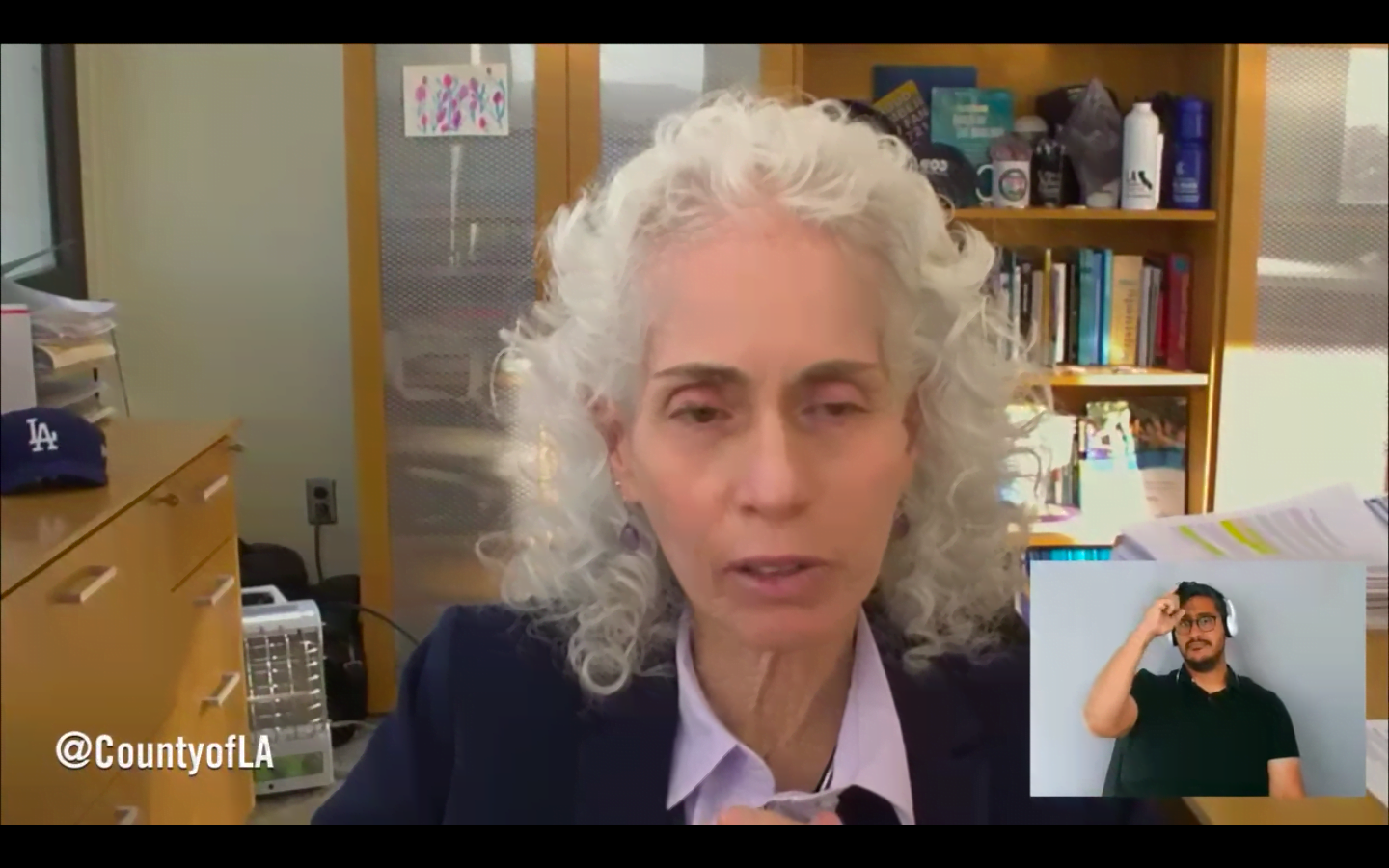 Now that businesses can operate at full capacity and mask mandates are mostly lifted, there are many questions regarding how to fully reopen the economy while staying safe from the coronavirus. Los Angeles County Health Department officials—Liza Frias, director of environmental health; Rob Gilchick, MD, child and adolescent health section chief; Muntu Davis, MD, MPH, health officer; Barbara Ferrer, director; and Seira Kurian, MD, director of medical affairs—answered the public's concerns at a virtual town hall. 
Who pays for PPE (personal protective equipment) for employees?
"Currently, CAL OSHA still has emergency temporary standards in place. They do require that employers provide the appropriate PPE, which includes face coverings," Frias said.  
Can restaurants operate at full capacity?
Yes, and tables will no longer have to be separated. "Tables can go back to serving multiple families," according to Frias. 
Are temperature checks and screening mandatory for children at summer camps?
While best safety practices are recommended, Gilchick said, "The message is: If you're sick, please stay home." He advised proprietors of child facilities to "have a strategy to identify and exclude people who happen to be ill."
Can musicians playing together sit closer than six feet apart if everyone is vaccinated?
"In general, for musicians, are they subject to Cal/OSHA requirements?" Davis said. "In that case, physical distancing would still be required in terms of the current requirements, but it would be a recommendation especially for those playing wind instruments or singing to be distanced. If they're fully vaccinated, masking and physical distancing is not required."
Are singing and gathering at places of worship allowed?
"We've had no indication from the state that they intend to do anything specific related to singing, chanting, et cetera," Davis said. "So, things can go back to normal. Again, singing can be a risk, but masking for those who are indoors and unvaccinated is something that still falls under the state guidance. It's probably still a good practice for those at high risk who are unvaccinated to wear face coverings just because it will be riskier indoors with that type of activity, should someone unknowingly be infected."
Are vaccines mandatory?
"At this point, we're not aware of the vaccines becoming mandatory as they are currently under emergency use authorization," Davis said. "Some colleges want to require it once the vaccine becomes licensed by the FDA." Although government has not issued a vaccine mandate, Ferrer clarified, "Private businesses have. If you're working for an employer and the employer is requiring a vaccination, that actually is something the employer is allowed to do. You would need to talk with your employer if that's the situation you are in. We know there are private businesses already requiring it, with most of them of course allowing medical and religious exemptions."
What changes at colleges are anticipated for the fall semester?
"Things will look much closer to pre-COVID than they do now," Gilchick said. "There will be no capacity limits. There will probably be no physical distancing. Masking requirements for indoors? It's hard to say for sure, particularly for those unvaccinated."
Will youngsters under five be able to get vaccinated against COVID-19?
"We're hoping that we will have enough data to submit an application for authorization for younger age groups," Kurian said. "We're hoping sometime in the fall. Pfizer is the only vaccine we can currently use for children [ages] 12 and over." Moderna has applied for approval in that age group.
What risk do unvaccinated people pose to vaccinated people?
"Considering the fact there's still a rare chance that you can get infected even after being vaccinated—until we reach what's referred to as 'herd immunity,' there is a possibility for you to still get infected after exposure to someone who is unvaccinated and infected," Kurian said. "The good news is for folks who are vaccinated, if you do get infected chances are you're going to have a milder form of the disease. Chances are you won't be hospitalized."