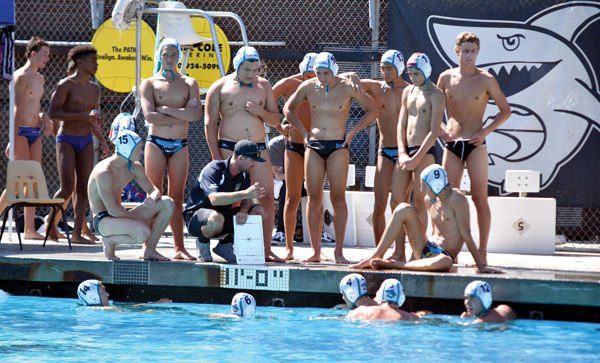 Water polo has been a constant factor in Hayden Goldberg's life for a long time. 
He was a member of the Malibu High Sharks boys' water polo team in the early aughts and after competing in the pool for some time at Ventura College, he has been a constant coaching presence on the sideline of both Sharks boys' and girls' water polo squads and area youth water polo teams for well over a decade. 
So, last fall and winter were anomalies for Goldberg, a former MHS player and now head coach. Because of the COVID-19 pandemic, the Sharks water polo season was shuttered. Goldberg said that time was tough. 
"I enjoy working with the kids every day," he said. "I enjoy teachings kids and learning myself from kids, so it was hard to kind of not have that interaction last year."
Goldberg and Sharks players did have some training sessions on the beach and Zoom meetings, but it just wasn't the same. The coach wanted to keep his players' hopes up—he wanted the "mental part" to be positive for his athletes.
"It was mental game during the lockdown," Goldberg said.
The Sharks have splashed back in the pool now. The team had eight contests in a summer league and started its season last weekend by competing in the Conejo Classic in Thousand Oaks. The home opener was on Tuesday against Nordhoff. The Sharks will host Camarillo on Thursday, and then host the three-day Malibu Varsity Tournament beginning on Sept. 9. 
The Sharks, Goldberg said, are excited to be competing again.
"I've seen nothing but smiles since we have been able to be back in the water and playing water polo," he said. "We haven't had what I would consider a bad practice, bad outings. Everyone is here because they have been so eager to play. The students getting all the stuff they were denied for a year is the most rewarding thing." 
A year after the worldwide health emergency delayed or canceled sports campaigns around the world, Malibu-based sports teams seem to be back to their regular schedules. 
The Sharks girls' tennis and girls' volleyball teams have also begun their fall seasons. The school's cross country and football teams are also set to start their seasons this month. 
The girls' tennis team has had two matches against Simi Valley this season. The team will host Royal on Sept. 9, then play at Nordhoff on Sept. 21. The girls' volleyball team has already had more than a handful of matches. The group next plays at Nordhoff on Sept. 14; they host Fillmore the next day. 
The football team's first game of the season is on Friday at Avalon. The gridiron group then has five consecutive home games—Sept. 10 against Soces, Sept. 17 against East Valley, Sept. 24 against USC Hybrid, Oct. 1 against Santa Clara and Oct. 8 against Thacher. 
The cross country team's season begins on Sept. 10 with a meet at Arroyo Vista Park in Moorpark. The team's second meet is six days later at College Park. 
The ball is in play with Pepperdine Waves fall sports, also. 
The women's soccer team has a 3-1 record heading into its matchup at Lipscomb on Thursday in Tennessee. The squad has a second match in the Volunteer State on Sunday against Vanderbilt. 
The women's volleyball team is undefeated. The bunch will look add some more Ws to its 3-0 record this weekend at the Santa Barbara Classic. The Waves play Kansas State on Friday, San Diego State on Saturday and host team UC-Santa Barbara on Sunday. 
Pepperdine's cross country team begins its season on Saturday at the Mark Covert Classic in Brea. They will run at the UC Riverside Invitational on Sept. 18.
The Waves men's tennis team will compete in the Knoxville Showdown in Tennessee from Sept. 10-12 and the Battle of the Bay from Sept. 17-19 in San Francisco. The women's tennis team will compete at the Battle of the Bay from Sept. 16-19. 
The women's golf team's season begins on Sept. 13 at the two-day Dick McGuire Invitational in New Mexico. The team will compete at the three-day Badger Invitational in Wisconsin beginning on Sept. 19. 
The defending NCAA champion Waves men's golf team also begins its season this month ranked atop two national polls. Pepperdine will compete in the three-day Fighting Illini Invitational on Sept. 17 in Illinois. The No. 1 team will then compete in the two-day Colonial Collegiate Invitational in Texas beginning on Oct. 4. 
In a Pepperdine statement, the team's associate head coach Blaine Woodruff said the Waves' goal is to get better every day.
"Every event that we play, we'll be a target because of our success last season," he said. "But our guys understand that level of commitment that it takes to win, and we're excited to see them accept those challenges in a positive way."
Goldberg said when the MHS boys' water polo team first began practicing again, everyone had to get used to practicing again because they had spent so much time away from each other.
"I was like a deer in headlights," he recalled. 
But, practice makes perfect. The coach said he and his squad of 25 players have progressed and are ready to continue Malibu's successful water polo tradition. 
"My fairy tale vision is that at the end of the day the kids are going to come together, be competitive and compete for a league title," he said. "Our goal isn't from outer space—its attainable. We want to achieve the goal and try as hard as we can to achieve the goal."