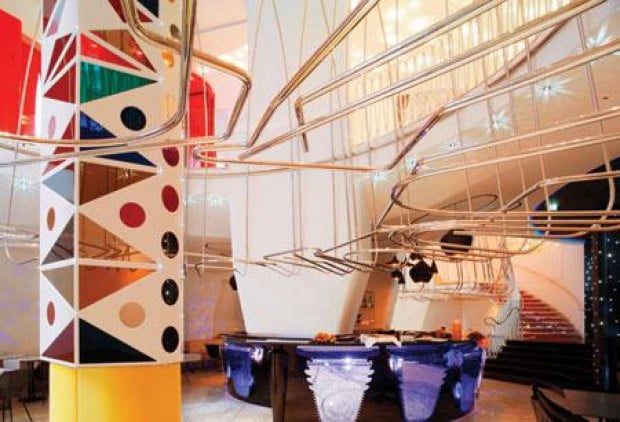 You don't have to follow the financial news anymore, because it will follow you -all the way to Europe, if you let it. The Old World hasn't been a cheap one for a very long time, but when a pizzeria in Rome can charge $9 for a bottle of Fanta and get away with it, you know things are getting rough. Under these circumstances, you could skip Europe altogether, but Canada is cold and Mexico is looking pretty dicey these days. I have a better idea: Forget London and Paris, condense your trip into four or five well-planned days, and spend them all in the one relatively compact country that has it all: Italy.
Supposing you've hit the big tourist bases before, why not add an epicurean twist to your itinerary and include in it the kind of places and experiences that make the long journey truly worthwhile.
Exedra Milano: Milan's newest hotel, part of the Italian group Boscolo Hotels, does for Europe's hotel scene what La Scala did for opera-takes it to the top. Architect Italo Rota completely reimagined a massive former bank building, transforming it into a futuristic hybrid of "Alice in Wonderland" fantasy and space age nightclub. From the gleaming white lobby, a "harlequin" column covered in colored mirrors plunges down to the spa level. No two of the 154 posh guest rooms are alike, but all have bright airy bathrooms and a dozen strong ranges of fragrant shower gels arrayed like a rainbow of test tubes on the pristine counters. The meeting room looks like the inside of a jet plane, but in sleek black. Everything is breathtaking. www.boscolohotels.com
Exedra Rome: You can't go wrong with this big, luxurious hotel that curves around half of the Piazza della Repubblica in the heart of Rome. Even standard size rooms are big. The reception staff is helpful and friendly-the same cannot be said for certain other hotels in Rome. Another advantage of the Exedra is its proximity to Rome's central train station, with a convenient rail connection to the airport so you can catch that early morning flight to, say, Sicily. www.boscolohotels.com
Select Italy's Rome Wine Nights: When in Rome, drink as the Romans do: with the very best Italian wines in the most spectacular of settings. Select Italy's new series of six private wine tastings lets travelers revel in the goodness of the grape amidst the chic backdrop of one of the Eternal City's most sumptuous wine bars. Designed to appeal to discerning oenophile and budding wine aficionado alike, these tastings include a guided degustation of three different but regionally linked Italian wines paired with scrumptious antipasti. The exceptional venue is a grand enoteca (Italian wine bar) situated on the ground floor of a restored 16th century palazzo, near the Pantheon and replete with recently discovered Roman ruins in the extensive wine cellars. The prices, which start at $152 per person, are guaranteed in dollars before you go. www.selectitaly.com
Hotel Bvlgari: A private street called Via Privata Fratelli Gabba in the heart of Milan's fashion district, a secret garden and a sumptuous Antonio Citterio decor-it's beyond chic-it's Bvlgari. There are only 58 rooms, with a buff cream and brown color scheme dominating with dark oak floors, and large bathrooms with polished black Zimbabwe marble and travertine (and Bvlgari amenities galore). Balconies are fashioned of solid teak. Other advantages are a destination restaurant and jewel of a spa including an iridescent mosaic-lined pool that positively sparkles. This is one hotel you'll leave very reluctantly. www.bulgarihotels.com
Villa Pace Park Hotel Bolognese: If you're leaving Venice and looking for a quiet transition before taking on Milan or another big city, consider this resort, a sumptuous 19th century villa that has been transformed into an elegant four-star hotel surrounded by a verdant park. Location-wise, the Villa Pace (say PAH-chay) is along the Terraglio, the old Napoleonic road that links medieval Treviso with Venice, making this a great base for exploring the culturally rich Veneto region. There are just 95 rooms, cheerfully appointed, and an upscale restaurant, the Bolognese, that's always popular with the locals. Try the spaghetti with swordfish and Pachino tomatoes. www.hotelbolognese.com.
Verdura: Though it doesn't reopen until March, it's not too soon to make a reservation at the new Verdura Golf and Spa Resort, situated on the hilly south coast of Sicily between the historic towns of Sciacca and Agrigento. The setting is 570 unspoiled, spectacular acres and the resort itself built on a scale uncommon in this part of Europe. But it's quiet and tastefully done, so it feels more open than oversized. Each of the 203 guest rooms has Mediterranean views. If golf isn't your bag, luxuriate in the 43,000 square-foot spa. www.roccofortecollection.com
Insider tip: To get from one Italian city to the next with ease, and to be able to make interesting stops along the way, take the train. You can buy a Eurail SelectPass from Rail Europe before departing the U.S. www.raileurope.com.