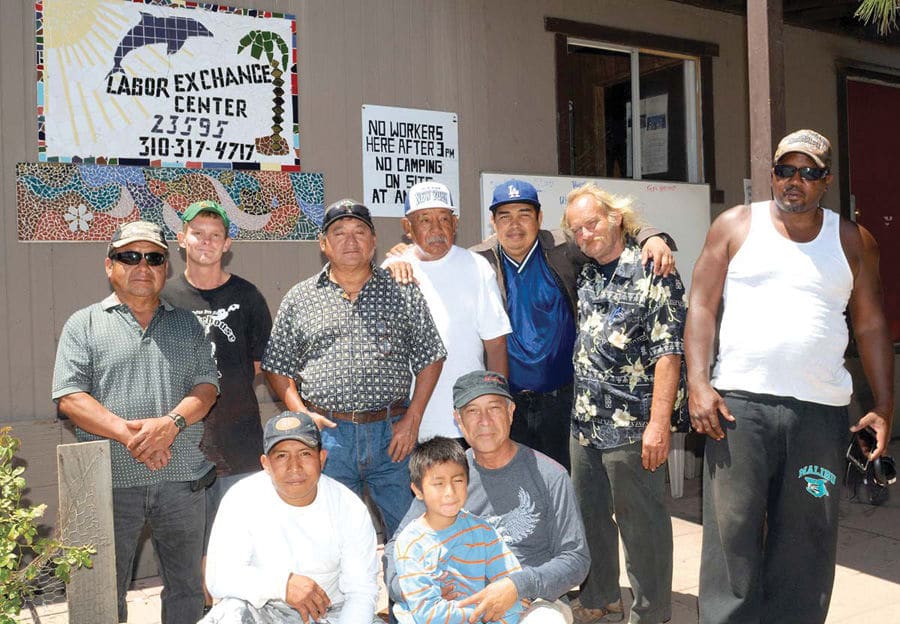 The novel coronavirus and resulting state stay-at-home orders have had a huge impact on everyone, but the greatest impact may be on undocumented and low-wage workers—including the day laborers who come to the Malibu Community Labor Exchange (MCLE) every day hoping to find employment. The nonprofit labor exchange, which operates out of a trailer on Civic Center Way, has been closed since mid-March due to the COVID-19 emergency.
Most of MCLE's workers, both male and female, are undocumented and therefore not eligible to receive stimulus checks or unemployment benefits. And, while some undocumented employees can receive certain state benefits by showing a W-2 or paystubs, most day laborers can't because they are paid in cash. That means most have had no money at all coming in for over a month now.
Cindy Miller-Perrin, a board member of MCLE and distinguished professor of psychology at Pepperdine University, said that the board decided they needed to do something.
"We want to help the workers who haven't been able to work since we shut down MCLE," she said. "We originally wanted to financially support a hundred of our most vulnerable workers—the elderly, single mothers and those unable to pay rent."
The board started an online fundraiser for the workers and have received $35,425 in donations toward a $60,000 goal so far—contributed by 94 different people in 26 days (as of April 20). When they reached $30,000, they sent out 100 checks for $300 each to the most vulnerable workers. 
As additional donations are received, Miller-Perrin said they hope to support additional workers who have been with MCLE for the last two years, as well as send a second $300 check. 
"We need to get the word out that we're still raising money," she said. "It's been pretty inspiring how willing people have been to give to those most in need. The workers have been so appreciative."
MCLE also received funding from another nonprofit organization. The National Day Labor Organizing Network recently gave them $10,000, which allowed the labor exchange to send an additional $250 to each of Malibu's 40 most vulnerable workers.
The MCLE's longtime manager, Oscar Mondragon, has been working from home since the labor exchange office closed last month. He keeps "connected to the people" by phone, he said, and has called every worker to verify their mailing addresses for sending the checks. 
Mondragon shared a text he received from a worker currently hospitalized with COVID-19:
"Good afternoon Señor Oscar, I am really grateful for the support you mention to me. I couldn't talk at that moment because I was overwhelmed with tears. But I am very grateful with all those [people] that do things for us. I give thanks to God to find very sincere people that want to help others…May God bring you health and bless you all."
Mondragon also thanked everyone for their generosity. 
"We have such great people in Malibu to contribute to this, and we are grateful," he said. "The people here have shown they really care."
On the fundraising page, the board wrote, "During these difficult times, it's important to remember that some people are struggling more than others. Forty percent of Americans have, essentially, no wealth.  They live week-to-week, month-to-month, and have little or no savings to pull from in times of trouble. Nowhere are these inequalities more apparent than they are in the lives of the people we serve at the Malibu Community Labor Exchange."   
California is actually home to more than two million undocumented immigrants—nearly 10 percent of the workforce. About two-thirds have resided in the state for longer than 10 years, according to the Public Policy Institute of California. In 2014, undocumented immigrants in California paid about $3.2 billion in state and local taxes. 
The MCLE's fundraiser can be found at: charity.gofundme.com/o/en/campaign/help-our-workers-during-the-covid-19-pandemic