This year's surprise Golden Globe winner for Best Non-English Language Feature (and one of the five Oscar nominees for the Best International Feature) depicts the true story of how two Argentinian prosecutors, for the first time in history, brought a military dictatorship to justice by convicting the leaders of Argentina's fascist regime with crimes against humanity. One of those attorneys is Luis Moreno Ocampo, who's been quietly living in Malibu for the past several years.
Ocampo still handles a few global practice cases for a New York law firm and lectures at the USC School of Cinematic Arts. He also consulted on the Amazon original film "Argentina, 1985."
"I've always been interested in how films can define the [real world] narrative," he said in a Zoom interview. "I was always impressed by the fact that the 1961 film 'Judgment at Nuremburg' was where the term 'Holocaust,' with a capital H, was first coined. And that was years after the end of World War II."
Ocampo likes the fact that "Argentina, 1985" will introduce a new generation of younger people to a valuable history lesson: helping to ensure that history doesn't repeat itself.
"This film is being shown around the world, inspiring people everywhere," he said.
Under the rule of the last military junta in Argentina, tens of thousands of people were kidnapped, tortured, raped, and killed — over 10,000 "disappeared" by some estimates. The military took over Argentina's government in the 1930s and several regimes held power over the years, but the most brutal of all controlled the country from 1976 to 1983.
That junta waged a so-called "Dirty War" against leftist political opponents. Americans watched as newscasts reported on "The Grandmothers of the Plaza de Mayo" who gathered every day in a plaza to bring attention to the number of children stolen and illegally adopted during the military dictatorship. At last, with the Argentine general election of 1983, constitutional rule returned to the country.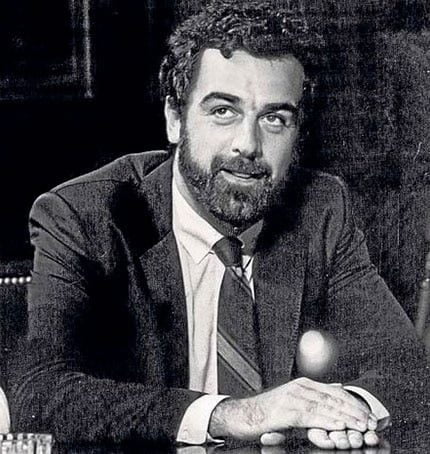 The "Argentina, 1985" film begins as attorney Julio Cesar Strassera learns that he'll lead the "Trial of the Juntas," and suspects he's being set up for a sham trial, which had already happened in other Latin American countries like Uruguay, Brazil, and Chile. But Argentina decided to pursue justice through the civilian courts system despite being repeatedly blocked by military pressure and political compromise.
The film focuses on a whirlwind period of months where Strassera and Ocampo (only 32 at that time), and their team of very young associates (no one else wanted the job), were collecting sufficient evidence to secure convictions of powerful defendants.
"We had a new way of investigating crimes that hadn't been tried before," Ocampo said. "We talked directly to the victims instead of the police, because we knew the police couldn't be trusted."
The trial depicted in the film follows actual court transcripts very closely.
The prosecution successfully convicted two former presidents, two admirals, and a general. It was the first proceeding since the Nuremberg Trials where senior military commanders were prosecuted for mass killings. The trial of the juntas also gave a voice to victims, who testified about what happened to them in excruciating, further deteriorating any remaining popular support for the military.
Today, Argentina has a higher democracy score from Freedom House than the U.S. "because none of the major political parties in Argentina would support a candidate who tried to overturn an election."
Ocampo's career shot up from there. After the juntas trial, he conducted trials related to the Malvinas-Falklands War, cases of corruption by senior government officials, and trials for the military rebellions of January 1988 and December 1990.
He went on to serve as the first chief prosecutor of the International Criminal Court (ICC) from 2003 to 2012, an intergovernmental organization and international tribunal in The Hague, Netherlands. The ICC investigates and prosecutes war criminals accused of genocide, war crimes, crimes against humanity, and ethnic cleansing.
Over the years, he grew the organization from two people to over 300 employees from dozens of countries, and decided where to initiate investigations. He successfully prosecuted three heads of state for crimes against humanity, and led dozens of investigations and trials in dozens of countries.
He's been a visiting professor at Stanford, Harvard, Hebrew University and USC, and a senior fellow at Yale, Harvard, and New York University; and been a consultant to the World Bank, the Inter-American Development Bank, and the United Nations, along with a long list of other awards and recognitions.
The Malibu Film Society will present a special Second Look screening of "Argentina, 1985" at 3 p.m. Sunday, March 5, at the Regency Agoura Hills Stadium 8 (29045 Agoura Road). Ocampo will be present for the audience Q&A afterwards, along with producer/director/co-screenwriter Santiago Mitre. Free popcorn and soda for all those who confirm their reservations in advance at www.MalibuFilmSociety.org.